In case any of you haven't had the opportunity to travel halfway across the world with three children ages seven and under, you should definitely make sure to take advantage of the opportunity if it comes along. Definitely. Sarcasm works over the Internet, right?
So we began our journey in Milwaukee, being picked up by the airport bus at 9am on Wednesday, July 13th. It is important to know that we had 5 maximum sized carry-on suitcases, two very large 50-pound suitcases, a large box, a pack-and-play, a car seat, a stroller, and three backpacks. So, every meter we had to move between various modes of transportation was a feat.
On the way to the airport James expressed some concern about going to Germany since he didn't know how to say the word "toothpick" in German (bonus points for those of you who said Zanstocher). Why he ne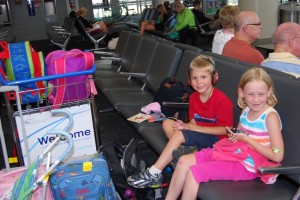 eded to know, we're still not sure.
From Milwaukee we boarded a small regional jet to Philadelphia. Since there were only 4 seats per row, James got to sit next to a lovely Greek lady named Voula who was headed back to Greece to relax at her oceanside home. We are now all officially invited to Greece. We may see if she'll just take the kids for a week. Or two. Or three.
In Philadelphia, we transferred to the international terminal to board our flight to Zurich. We were seated near the back of a 737 with James and Emily sitting together and Henry stuck between his mom and me in his car seat. The plane ride featured three movies, "Big Mommas (Father and Son)," "A Night at the Museum," and "Bride Wars." I'm happy to say, I watched none of these, though Emily and James got front row seats to "A Night at the Museum" and loved it. Consequently, James and Emily did not sleep at all on the flight over. Henry slept the most, followed by me and Sarah.
We got to Zurich around 7:30am on Thursday, July 14th (James's 6th Birthday). By the time we made it to the baggage claim our luggage was already taken off the carousel and stacked nicely for us. We found a luggage cart to pile everything onto and headed to the Flughafen Banhof (airport train station). We bought our tickets to travel from Zurich to Ingolstadt, Germany, via Munich at the ticket counter and talked to the baggage man about shipping our large suitcases. It turns out that would take around a week, and the train from Zurich to Munich would have plenty of room on it so it shouldn't be a problem.
Here's where things started to turn south. Before I begin, I need to thank some people who helped us along the way. The nameless lady on the train to Munich, Kim and Peter from California, Marco from Regensburg, and last but not least, Irene, the kindest, sweetest of them all.
The train pulls up at the station and I look for the car number that we have been assigned, as we have reserve seats. All of the cars are packed with people. I find our car number and Sarah and I quickly throw all of the kids and suitcases onto the train platform portion of the car (where people enter and exit). Emily and James enter the car and sit in two of our seats, which were open. I look high and low, but space to store our luggage is few and far between. So with everyone watching, I walked back and forth from the platform to the car with a new bag each time, trying to find a spot to cram it where it won't likely fall and hit someone.
At this point the ticket man comes around and asks for our ticket. I show him the mess of papers that the train station lady gives me, he identifies our ticket and proceeds to tell me that we can't have all of our stuff on the platform. He actually became quite upset about it and I tried to explain that I was moving pieces into the car as quickly as I could but there was not much space there.
I noticed a nice, pleasant, 30-something lady get up from her seat and walk to the other side of the ticket taker. She starts talking to him in Swiss German, and he responds back. She becomes more irritated and begins to speak very brusquely with him. I begin to realize that she has come over to yell at the ticket taker for being rude to us and to ask him to give us a break as the train is clearly full and we've been trying to move all of our luggage. His tone with us began to soften a bit and the lady took a seat.
On the ride we met Kim and Peter, two lawyers from California. They played with our kids (well, just Henry as Emily and James fell dead-asleep as soon as they got in their seats), bought us a drink, and generally made the time go by much faster. They were on day 3 of their two-week European vacation, and I think they really enjoyed not having any children once they met us.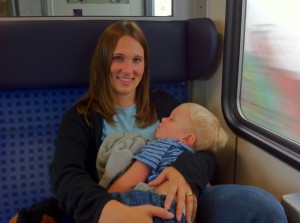 We finally got all of our bags loaded for our 5 hour train ride to Munich (it should have been 4 hours, but the diesel engine broke down at one of the stops and they had to send a whole new engine to attach to the train). We finally arrived in Munich, threw all of our bags off the train, and found the next train to Ingolstadt. Thankfully that was easy to do and the train was not very full, so we grabbed our own compartment and stored all of our luggage without a problem. An hour later we arrived in Ingolstadt.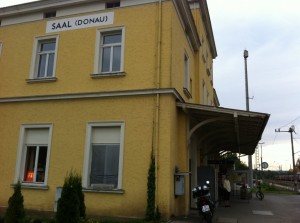 I went to the ticket counter to buy our tickets to Saal ab der Donnau (The city of Saal on the Danube river), grabbed two Cokes for the kids, and about 100 euros for pocket cash. When I came back we began to move our luggage two tracks over to catch the next train. That doesn't sound like much, but in order to do that we had to haul each piece down the stairs, over two tracks, and back up the stairs. There were no lifts, so we had to do it all by hand. That's where we met Marco, a wonderfully nice mathematician from Regensburg. He helped move all of our luggage as soon as he heard we had been doing this all day. He also helped talk to the conductor for me, and helped with moving things off the train once we got there. He also gave me his number in case we needed more help in the future!
Once we got there we were greeted by Frau Irene Petri who helped us load her VW van with our luggage, and drove us to our Ferienwohnung (holiday flat) in Obereggersberg, Germany. She had little chocolate treats ready for the kids, a birthday cake (strawberry custard torte) for James, and a kitchen full of groceries waiting for us. She only spoke German, so I smiled and nodded the entire 25 minutes from Saal to Obereggersberg. She was a tremendous sweetheart.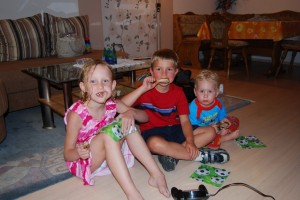 We got to our flat around 6:00pm on Thursday, July 14th, about 26 hours after we started. We were tired, hungry, smelly, exhausted, smelly, tired, and hungry. And smelly. But most of all, we were elated to be here. We went to bed between 9 and 10pm, and had variable success sleeping. But we all woke up the next morning, having agreed to not set any alarm clocks, at 11am, ready to meet what remained of the day…