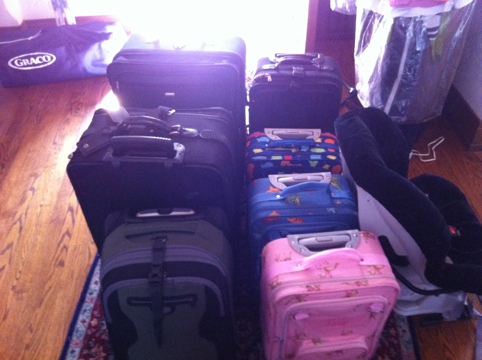 "Oh our bags are packed
We're ready to go …"
"Leaving on a jet plane
Don't know when I'll be back again."
Well the big day has finally arrived. The bus comes to pick us up in about 45 minutes. We've got all of our bags ready, including five more huge bags that will be delivered in a few weeks.
After waiting for weeks and weeks I was informed yesterday morning that our Swiss Visas were ready. So yesterday I drove down to the Swiss Consulate in Chicago and picked up all five visas (just in the nick of time).
At this point we are flying from Milwaukee to Philadelphia where we change planes and fly to Zurich. We should arrive in Zurich around 9am tomorrow (Swiss time). From there we will grab a train (another 5-6 hours) to northern Bavaria to meet up with some friends, and hopefully settle in for a few weeks.
The kids are clearly excited, and even more clearly haven't the foggiest idea what they're about to go through.
Well, it's just about time to go. I'll check in later with some updates, and maybe some pictures!
Behüte Dich Gott!