Our hotel, The Georgian House Hotel, is a small and adorable place that was established in 1851 and has an "award winning" English breakfast. When we first arrived, they were putting up a real Christmas tree that took up about a third of the relatively small lobby room. They had a tray of mini minced pies and a ceramic pot of hot mulled wine, which we enjoyed on the couch.
The hotel actually owns several small row houses, and we are staying in a ground-floor flat around the block from the main office of the hotel. On the morning of our second day in London, we woke up, got dressed and headed over to the hotel lobby, where the Christmas decorations were complete, and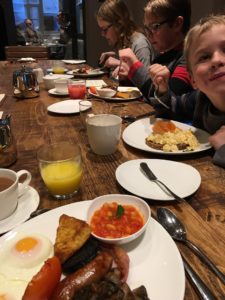 down a set of very old stairs to the breakfast room. The "Full Georgian Breakfast" was as traditional as it comes, and certainly earned whatever awards it has received. For those who aren't familiar with it, a Traditional English breakfast features eggs, sausages, ham, black pudding, baked beans, mushrooms and roasted tomatoes. Ours included a selection of fresh breads, jams, and other condiments (including Marmite, a yeast extract paste that Henry definitely did not appreciate).
Once our tummies were full, we got ready for the day and headed out toward Buckingham Palace, which is in walking distance of our hotel. We arrived just before the changing of the guard, so there were tourists from all over the world crowding the entire gate and all of Leicester Square. We picked a spot and craned our necks to see the spectacle. But after about 15 minutes of marching and hoopla, we decided to move along. We were squeezing our way through the crowds of people going in all directions, trying to stay together when a police officer stopped us at the curb because the road was closing. By a stroke of luck, we ended up with front row seats right by the main gates as the English band, Scottish bagpipe band and the guards marched out right in front of us!
From there, we walked across Green Park to ride the Tube over to the neighborhood of Marlybone, home of two of London's cheesier tourist attractions. First we headed to 221B Baker Street, where there is now a "museum" and recreation of the flat belonging to the infamous (and fictional) Sherlock Holmes and Dr. John Watson. A couple of blocks away is Madame Tousaud's equally infamous wax museum. We took hundreds of cheesy pictures and enjoyed every second of it!
When we came out, we were ready for a little rest and nourishment, so we found a local Patisserie and sat down for an afternoon tea. Joe ordered the Creme Tea while the rest of us had a "high tea." It came on a triple-decker platter and featured scones, clotted cream, cakes, pies, sandwiches, and, of course, tea. It was absolutely smashing*.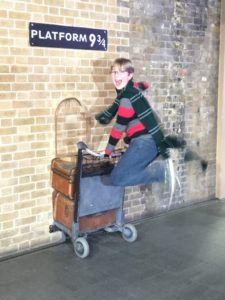 From there, we headed to King's Cross Station, where there is another cheesy tourist attraction — Platform 9 3/4, which ostensibly leads to the Hogwarts Express from Harry Potter. There is even a cart going right through the brick wall where you can take more cheesy pictures, which, of course, we had to do! The kids donned scarves from their chosen Hogwarts houses, pretended to be wizards and tried their hardest to get through that brick wall. It was brilliant!
We took a gander at some of the Kings Cross neighborhood, popping into the British Library which has a bloody impressive archive of stamps, as well as a collection books that belonged to King George III (1760-1820). By this point it was getting late, so we grabbed the tube back to Pimlico, had some nosh at Pizza Express, and went back to our hotel.
Joe fancied a pint, so we left the kids to wind down with their screens and popped over to a local pub. He ordered a cask ale, and we toasted to another successful day. A group of 20-something Londoners came in and ordered a round of shots for themselves. We said we would have whatever they were having (which turned out to be a shot of tequila chased with lime cordial). That opened up some great conversation, and by the time we left we got several embraces and cheek-kisses.
You can see some of our cheesy (and not-so-cheesy) pictures from this day in our gallery here.
* I've chosen a few classic British phrases and adjectives to sprinkle into our posts. We will put them in italics, and it's best if you read them with a British accent.