Sarah is going to kill me for posting this; I'm supposed to be writing about our time at Oktoberfest, but when something occurs like this, you have got to get it down before the moment passes.
We have moved on to very southern Bavaria where we planned to take the kids to see Schloss Neuschwanstein. The morning was decorated with horse-drawn carriage rides,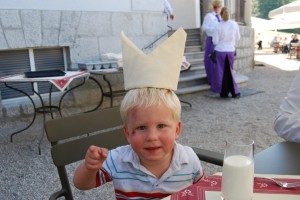 a castle tour, and a lovely wooded hike, and will be covered in another post. We had decided to go to lunch on the Alpsee, and found the perfect little café with outdoor seating. We ordered delicious food, ate and drank in the shadow of King Ludwig II, and decided to let Emily and James go play on the shores of the lake.
Then we noticed Henry had a look on his face. This kind of look, when given by a two-year-old, is often accompanied by a smell. And this was no exception. Only parents will understand what I mean when I say that, what we noticed next indicated that the situation had gone from an unpleasant inconvenience, to an all out emergency. Henry had boiled over.
I raced him upstairs to the woefully unequipped bathroom by the idyllic shores of the Alpsee, stripped him naked and proceeded to bathe him in one sink while washing his clothes in the other. After a heroic effort of cleaning and drying him, he found his mother outside the bathroom with a warm jacket and lots of hugs. I proceeded to clean the walls, floors, and counters and we took him downstairs (strategically washing stairs along the way).
Back on the terrace we found, to our surprise, that we had forgotten about Emily and James. And now, they were nowhere to be found. Sarah scoured the shoreline while I raced Henry back to the hotel. Fortunately the cleaning lady found me in the hallway and told me that my two kids had come home early and she let them in.
I found Emily and James in their room playing with their new Lego sets, and they told me what happened to them. Emily said they thought we were coming down to the water to throw stones with them, but when they looked up, we were both gone. They talked about it, and decided to walk back to the hotel to find us (a very smart move on their part), but were stopped, "by a group of black-haired people who just wanted to take pictures with Emily."
Asian tourists. They can't get enough of blond children.