We spent the past few days in the town of Henley, a beautiful old rowing town along the Thames river. We arrived on Christmas Eve and departed on December 27th, so we got to experience all the British Christmas traditions, and we wanted to share them with you!
Christmas Crackers
When Joe first heard the term "Christmas Crackers" he assumed it was some sort of special crunchy, biscuit-like thing. On the contrary, it is something else entirely. A Christmas Cracker is a cylindrical present filled with bits and bobs, wrapped like a piece of toffee. Two people pull from either side, and when it breaks open there is a loud "crack" made by a snapping device – hence the name.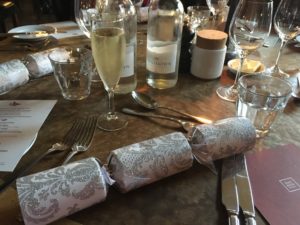 Every Christmas cracker has three things in it: a small gift, a joke and/or riddle, and a party hat. There were Christmas crackers on our table on Christmas Eve, Christmas Day and Boxing day. Some of the gifts we got were short pencils, mini notebooks, make-up brushes, a calculator, a tiny deck of cards, and a metal puzzle. The party hats turned out to be crowns made out of tissue paper, which many people proudly donned during their Christmas dinner. We got a kick out of seeing well-dressed British folks in a nice restaurant wearing tissue paper crowns. And, of course, we joined in the fun!
Here's one of the jokes we got…
Q: What do you get if you cross Santa with a duck?
A: A Christmas Quacker!
The Queen's Speech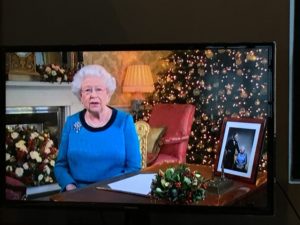 On Christmas Day at 3:00pm, the Queen gives a speech that is televised to the whole country. This year, the Queen was not feeling well, so she prerecorded her speech, which was introduced by the army band outside Buckingham Palace. It's a short and uplifting message (about 10 minutes)
given by the figurehead of the country. She talked about some people and organizations that were very inspirational in the past year, and encouraged everyone to inspire others by taking small actions and helping those around them. At the risk of being treasonous, I have to say that the Queen isn't the most engaging orator, but for the age of 90, she's doing remarkably well.
Christmas Pudding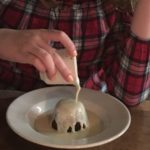 One of the most traditionally British things to eat is Christmas pudding. It's the dessert served at Christmas dinner, which is sort of like a fruit cake, only with more fruit and less cake. We've heard that it is supposed to be doused in a brandy sauce and lit on fire. But at our hotel, it was served with a sweet cream sauce that was poured over the top.
Christmas Lunch
Christmas dinner (or lunch) is always served in the early afternoon. The most traditional Christmas meal in England is turkey, including stuffing, cranberries, and more, much like a Thanksgiving dinner in the US. Most of our family ordered turkey, although I ordered steak, and they like to cover all their meat in a brown sauce. With my meal, I also got a Yorkshire pudding, which is like a puff pastry that can be filled with a sweet or savory filling.
Boxing Day
Boxing Day is the day after Christmas. Traditionally, it was a day off for servants and the day when they received a 'Christmas Box' from the master. The servants would also go home on Boxing Day to give 'Christmas Boxes' to their families, giving the holiday its interesting name. There are a few traditions associated with Boxing Day. The first is shopping. It is common for larger retailers to have huge sales on Boxing Day. Many, though not all, shops and restaurants are open to cater to folks who are out and about.
Another Boxing Day tradition is the family walk. Families go for long walks together, presumably to walk off their Christmas turkey and pudding. We were even told by one Brit that this is the day when people will even greet each other during walks (apparently a cultural faux pas the rest of the year). The standard practice of averting your eyes when passing someone is eschewed in favor of a glance and a polite "'Allo!" When Britain lets its hair down, it really lets its hair down.
Finally, Boxing day is a traditional time for a festive drink like a Buck's Fizz (orange juice and champagne) or a Bloody Mary (named for Queen Mary the first, according to our tour guide at the Tower of London).
Here are a few more pictures from our English Christmas…