Our last week in Switzerland has been filled with both work and play. Lots of packing, cleaning and organizing has meant a chaotic house, and not many toys available to play with. (Even fewer than usual). So, the kids and I went on several "field trips" to get out of the house and cool down, as it has been a beautiful and warm week.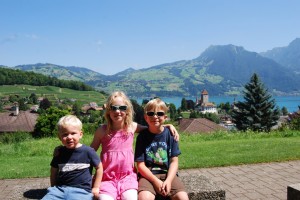 First, we went to Spiez, a beautiful town on Lake Thun only about 20 minutes away from Münsingen by train. We have past it many times heading toward the mountains, but we have never gotten off the train. So my plan was very simple: go to Spiez, get off the train and see what we can see. We just walked toward the waterfront and explored along the way. The kids found a fun playground with a beautiful view and a rotating seesaw that Emily and James loved. While they spun and laughed, Henry picked me a bouquet of wild flowers. We had a picnic lunch, found another bigger playground by the water, splashed in the lake, and visited the local castle. Sometimes having no plan turns out to be a great plan.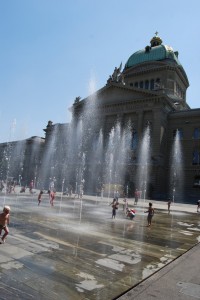 On Wednesday, we visited the city of Bern for the last time and did something I've wanted to do with the kids all year… splash in the spraying fountain outside the Bundeshaus. I was so glad this worked out in our last week here! With the way Swiss weather is, there aren't a lot of days when it's warm enough to be running through a giant outdoor sprinkler. Plus, there is a market on the Bundesplatz several days a week, which covers the fountain. But we finally had our chance!
We spent one afternoon at the community pool complex in Münsingen and one afternoon splashing in the Aare river. Then, for our final outing, we invited the kids from across the street to Bern Aqua, a waterpark at a mall on the west side of the city. I bravely took 7 kids to the waterpark by train, and they all had a wonderful time with their friends.
We were also invited to a few friends' houses for coffees, dinners, and farewells. And somewhere in there we managed to pack up our suitcases, sell our bikes, ship most of our stuff back to America, and get the house ready for its next occupant.
It was a wonderful last week in Switzerland. It is hard to believe that the time has come to say the last good bye.