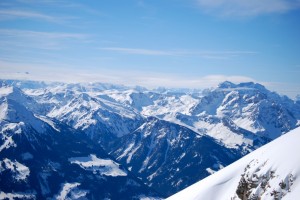 In February and early March, all Swiss schools have a week-long vacation that is known as "Sport Week." It gives Swiss families a chance to enjoy the beautiful mountains that are the country's pride and joy. And being in the mountains in the winter automatically means "sport" – mostly downhill skiing, but also sledding, snowshoeing, etc. This is not intended to be a relaxing vacation, but a week of winter sports.
As other parents know, a family vacation with young children is never relaxing anyway. In fact it is a lot of work to get the whole family transported somewhere, and then find things to do all together that everyone enjoys – which is nearly impossible. When you combine these two things to make a family Sport Week vacation, it turns out to be really exhausting!
Add to that the fact that our apartment is on the side of the mountain (really the only place it can be when you are in the Alps), so we have to hike up and down a zigzagging sidewalk and road whenever we walk out the door. Plus we arrived just as the grocery store closed on Saturday, and of course nothing is open on Sundays, and there are not many convenient restaurants around here. This made things particularly challenging for the first couple of days.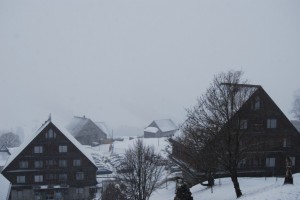 Oh, and on Sunday, it was foggy and raining/snowing all day, so we couldn't see anything. Plus, I am still recovering from my knee injury that happened last week. All of this put together was a recipe for disaster. While we were supposed to be having a nice vacation and doing some family bonding, we were mostly just doing a lot of whining and yelling.
Now, I generally try to not to complain or be negative on our blog, but I want you to know the reality of the situation. It was a rough couple of days. I wondered if this whole vacation was a good idea in the first place. However, it is good that we have a whole week here. Although the weekend was not so good, there is still room for a happy ending.
Things started to turn around on Monday afternoon. The weather had cleared, and we decided to go sledding at a hill in town. Getting there was awful. Henry was cranky from having his nap interrupted, we had to hike down the road to rent an extra sled, we got off at the wrong stop from the ski bus, so we had to hike some more to get to the gondola that took us up the hill. By the time we finally reached the top, it was so late that we knew we would miss the last ski bus and were facing a very long and steep climb back to our apartment. Tempers were flaring and emotions were running high, to say the least.
There was no choice but to start our journey back, so we crammed everyone onto the two sleds and started down the hill. Given my knee injury and our poor track record for steep sledding, we opted for the longer, slower slope. We sledded and walked a beautiful trail above the town. But, we didn't really know where we were going, and after a while it became clear that we were lost. We were not going back toward the gondola station or even the main bus stop in town. Just as the situation was getting really desperate, we looked down and saw what looked like our holiday village. "Is that our apartment?"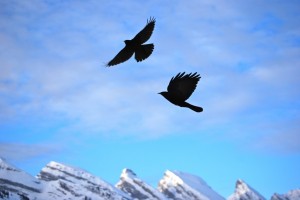 Joe asked. Indeed it was. There was much celebrating as we hiked down the trail back home. We ended up getting back in plenty of time to enjoy a nice family dinner made from the groceries we had gotten that day. I'm not sure exactly what it was, but something had shifted.
Tuesday was our best day yet. We went to the "Top of Toggenburg," riding a bus, a funicular, and a cable car to get to the top of a mountain with a spectacular panorama view. We were surrounded by downhill skiers,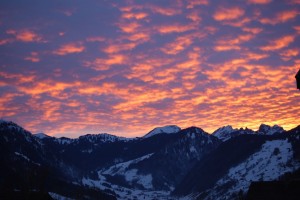 but there is also an amazing hiking trail on the plateau of the mountain that we had almost completely to ourselves. We sledded, hiked and played in the snow with (almost) no complaining. We caught all the right buses to get home smoothly. Then we watched one of the most beautiful sunsets I have ever seen. It was a great day.
Team Alps is back!